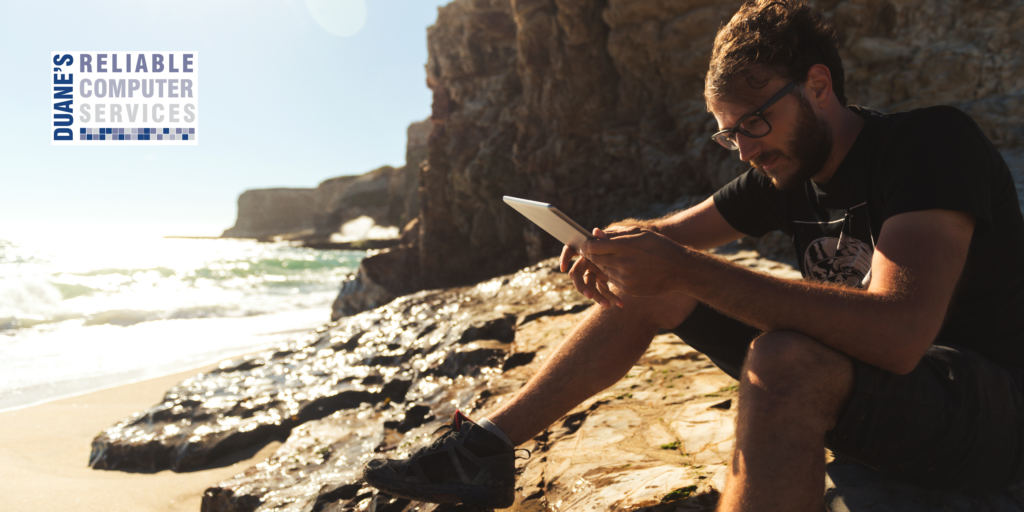 Summertime and the living is easy… Except many of us keep working even on vacation. Even if we don't work, we still lug our laptops along and check email or other things. When we work from home, we are working on a fairly secure network. It has some type of encryption and a password. We don't normally give this password out to very many people so that limits the possible people that could be on it.
This isn't the case when traveling or even when you are down at your local coffee shop. Many public wifi systems don't have a password and the ones that do usually have that password posted on the wall for all to see and use. In the coffee shop it is fairly obvious who is on the wifi, you can see all of the other customers sitting at tables with their computers open. When you are sitting in your hotel room, it isn't so obvious, and you might even feel safer since you can't see anyone else on their devices. Since you can't see who else is on this network, you should be very concerned. Who knows what anyone could be doing in their room? With no one watching them they could be using some hi-tech equipment and watching your every move.
So how can you protect yourself when you are on public wifi? You need to add a software VPN. They are not very expensive, and they are fairly easy to set up. In fact, some anti-virus software comes with a VPN built in, you only need to turn it on. When you get onto an open or public wifi system you should immediately turn on your VPN. This will shield your computer from those on the same network that want to snoop on your computer.
Years ago, I had a customer that was retiring, and his goal was to spend months at a time in South American countries. His fear was sitting in an internet café and someone stealing his banking info. We set up a VPN for him and he made several trips and never had an issue.
If you want a recommendation for a VPN, please reach out to me, I have experience with a few and can help you get it set up. If this article was too long and you didn't read it, (TLDR) here is a link to my YouTube channel where I discuss the same thing.
While you are on my channel, please subscribe so you won't miss any of the videos that I post.