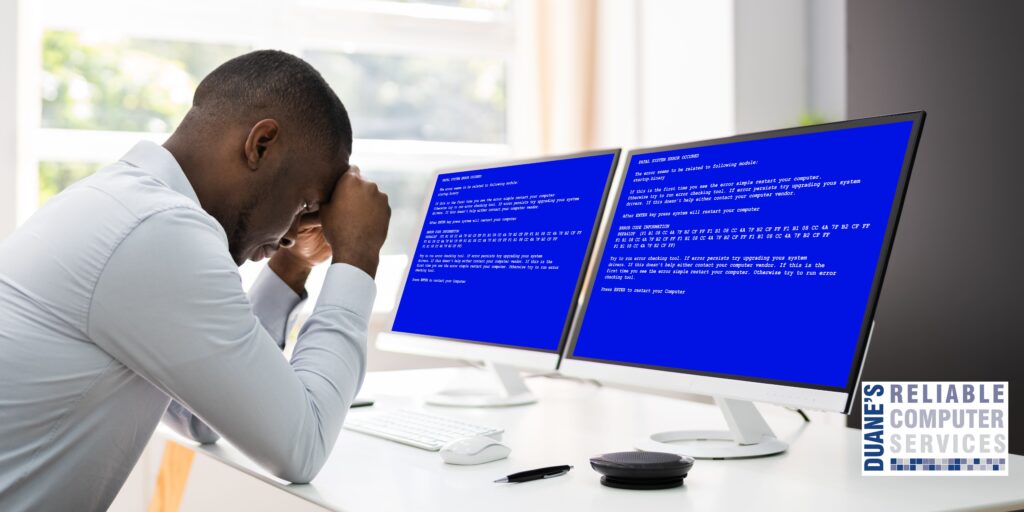 I get a lot of calls from people when they run an update and now, they can't boot up their computer. This isn't exclusive to just PCs, it also happens to MACs. There is nothing worse than turning your computer on and your system just sits there spinning or the line never finishes going across the screen. While there is nothing you can do to prevent this, there are things you can do to help restore your system when it happens.
If you have a MacBook, you need to make sure that you have a good Time Machine backup before running any major updates. The best thing is to make sure you always have a current backup that way you can always restore from it if you run into this type of issue. If you don't know how to set up your Time Machine backup, call me, I can walk you through it.
If you have a PC, there are a few ways to protect yourself.
Make sure System Restore is active on your computer. Here is a video that shows how to make sure it is on – I used this on a laptop recently and had it running again in about 15 minutes.
Have a current backup of all files. I recommend an online backup. Here is my favorite one – I can help you get this set up if needed.
If you have proprietary software or software that is difficult to reinstall it is a good idea to have a system image backed up onto an external drive. With this you can get back to this complete system by restoring this after reinstalling Windows. It can save a lot of time re-doing settings and other time-consuming set up of your software. This is a little involved, but I do offer this service and can set it up for you.
While using these to restore your computer may not be immediate, it will help you keep all of your data, programs, and settings and save you hours of tweaking things to get them back to the way they were. If you need help with recovering your system let me know, or if you want to put these things in place to minimize your downtime if this happens, I can help with that also.